Jersey Auction
Jersey Auction
Ralph Engelstad Arena, in partnership with the University of North Dakota, will be auctioning off historic men's hockey jerseys during the hockey season. Jerseys that will go on auction will include signed authentic and replica jerseys from past North Dakota Hockey favorites, Offiical game worn jerseys from the UND Mens Hockey Program and remastered historic jerseys from the past. The remastered jerseys were built with no detail was spared, during the creation of these jerseys each one was built to match the original style, weight, stitching and patch application. Even the fit of the jersey is authentic to what the players wore during their time at UND.
The money raised through this auction will go back to will go back to UND to help support the development of athletic programs and student athletes. So not only will you be the proud owner of a piece of hockey history, you will be helping student athletes for years to come.
These jerseys are truly unique (some are one-of-a-kind) and will never be made again. Complete your UND memorabilia collection with a UND men's hockey jersey.
BID NOW!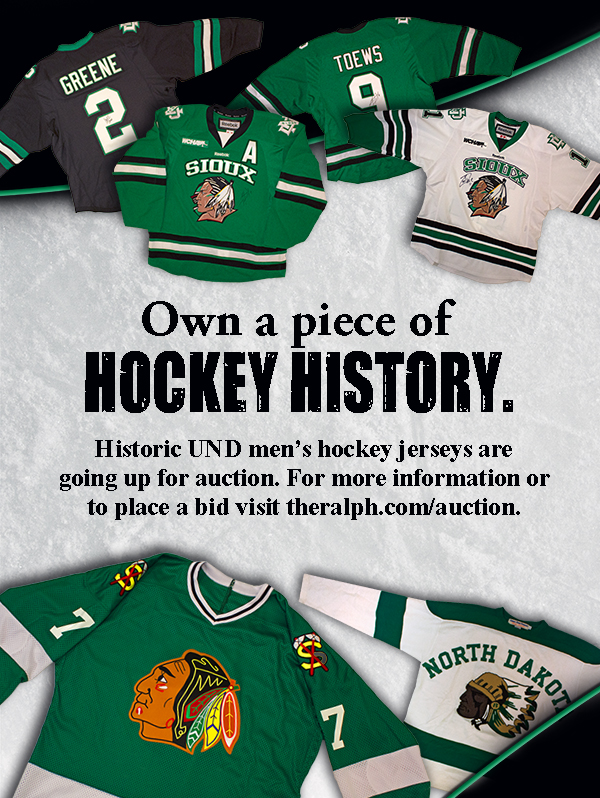 U: PriceLevel:
Supporting UND Athletics
The Sioux Shop's profits are reinvested back into the athletics enterprise to help support the development of UND's Athletic programs and student-athletes.